Ultra-moisturizing Face and Body Butter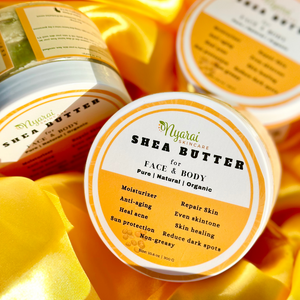 Organic Shea Butter
Rich, luxury texture moisturizing butter instantly boosts skin's moisture and radiance to achieve and maintain glowing and healthy skin.
Rejuvenates your skin to prevent dry and itch skin
Raw and unrefined Organic Shea Butter full of essential fatty acids and antioxidants vitamins A and E to combat acne, dark spots, and more.
We Promise
Our products are affordable, great quality, and combat acne, dark spots, and hyperpigmentation to help improve your skin and build your confidence. We promise.
Testimonials
I love these vegan products! Works great and easy on the skin.

Stephanie
I remember when I always doubted myself. Now, I found confidence in my skin and myself after using these products. My dark spots and everything is gone. I am loving my glow more than ever!!

Janae
The product was gentle and didn't irritate my sensitive skin. No breakouts, no time to adjust was needed.

Brande